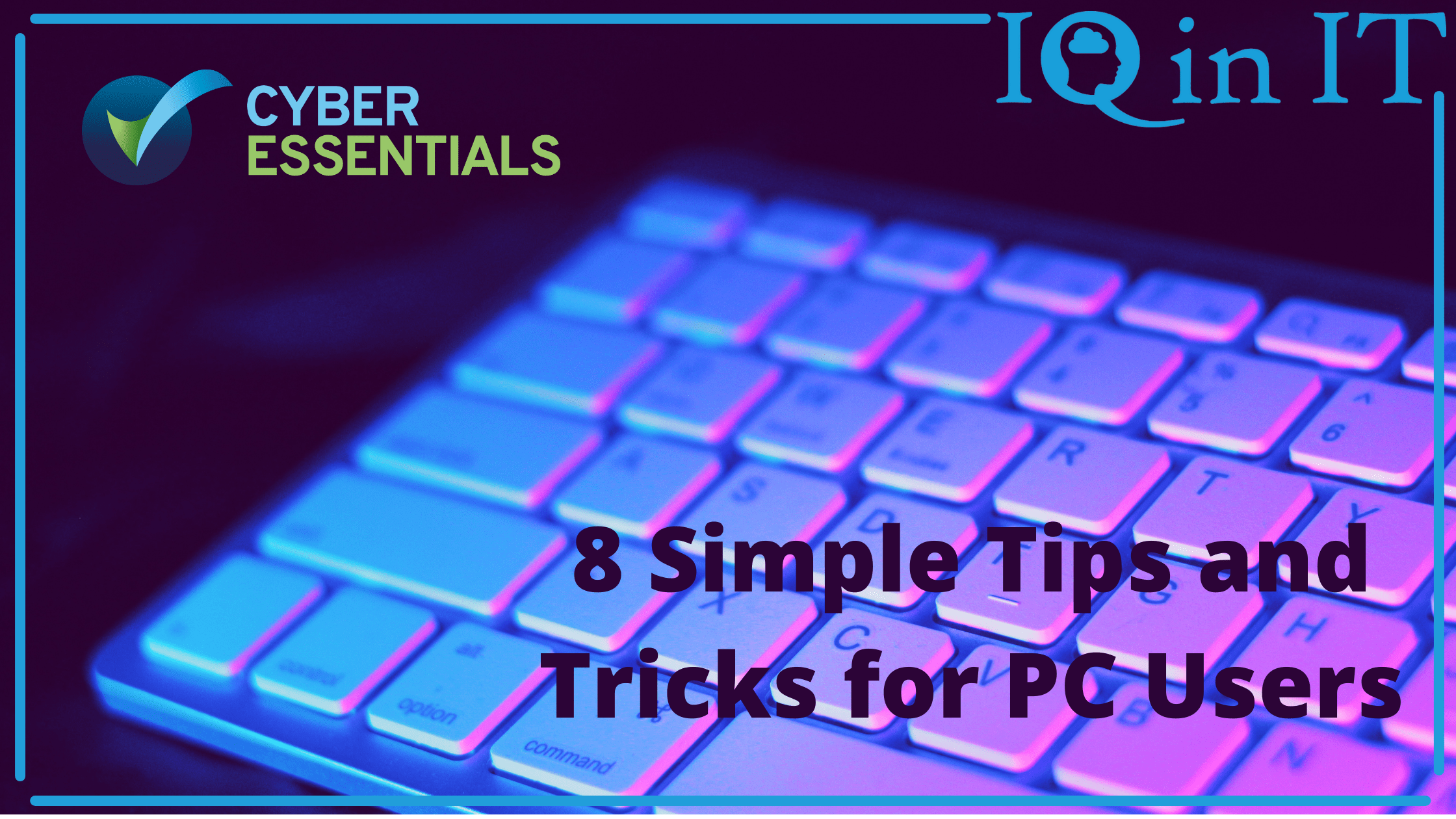 Technology most certainly makes our lives faster!
But haven't you been in the middle of a task, right in the zone, then been forced to switch between keyboard or mouse – just interrupting that flow?
Maybe you've been doing some research and scrolling the page is just getting that bit tedious? When you think about it, there are many little things in technology that are simple, beneficial yet not the smoothest…
Well, in this article, we give you some simple hacks that can help you avoid these minor inconveniences and give you a little boost to your productivity alongside your efficiency!
HACK #1: SCREENSHOT BEATS PRINT SCREEN
You surely know about the print screen button. It's a button that can take a picture of what's currently on your screen. Whilst very useful, everyone who has used it at one point will have wanted just a section of the screen but had to get that section by editing down a version of the whole thing.
This is no longer an issue! By pressing SHIFT + WINDOWS + S, you can snip and select just the part of the screen needed – just like in the Inception-esque picture below.
A little window will then pop up where you can save, edit or copy your new screenshot. Simples!
HACK #2: SHAKE IT OFF
Got loads of windows open? Maybe you had multiple folders open or just multiple browser windows running.
Either way, it's slowing things down. Do you now want to clear your focus but don't want to waste time minimising every single window?
Click the window you want and give it a little shake with your mouse! All others will minimise (but not close completely).
Meaning you can gain some focus in an instant but also not worry about losing files. Great right?
HACK #3: MISS A STEP WHEN NEEDING THE TASK MANAGER
You definitely know of the Task Manager. It's that thing you use when everything else is frozen…
If you still access it by pressing CTRL + ALT + DEL to then select 'Task Manager',  try pressing CTRL + SHIFT + ESC instead. It opens the Task Manager instantly and you save some time!
Quicker, easier and it often works when CTRL + ALT + DEL doesn't. Pretty neat huh?
HACK #4: COPY & PASTE THIS SHORTCUT
Copy and pasting can be one of the most tedious tasks. Lots of using the mouse alongside having to change between keyboard and mouse when copying your own text.
Well, that's if you don't know about the copy and paste hack!
CTRL + C will simply copy anything you have highlighted. CTRL + V will paste it in its exact format (bold, italics and font will be transferred over).
HACK #5: MAKING PASTING EVEN BETTER
What about copying the contents of the text but not their format?
Not to worry! Just press CTRL + SHIFT + V instead. Add that shift to remove the format. Easy, Peasy!
HACK #6: PRO HIGHLIGHTING
Talking of copy and pasting, to do that you need to highlight the text first, right?
It's easy enough for a sentence or two when you click once and drag the mouse over the desired text. But having to hold and drag really can become a drag after a while.
So, can you make this easier, too? Yeah, of course, you can! When in a web browser to highlight words instead of a single letter double click and drag. Each word is highlighted as quickly as a letter was previously.
Want to take that to an even quicker level? Triple-click, drag and watch as whole paragraphs are highlighted in a flash!
HACK #7: TABS TABS TABS
Using the internet will most certainly be towards the top of the usage list for every single PC user! Having multiple tabs open will also most likely be common for nearly all PC users too.
So, you just know there have to be some related shortcuts, right? Here's two we're going to teach you right now! To open a new tab it's CTRL + T. Hopefully no more closing tabs by accident instead of opening a new one!
Talking of closing tabs by accident… Here's the hack for the closed tabs coming back up and running! CTRL + SHIFT + T is what you need. The SHIFT was added for re-opening.
Do you want a new browser window? Try CTRL + N. Do you want to be extra safe, almost traceless? Try incognito browsing with CTRL + SHIFT + N. It's like the Christmas miracle just all year around.
Also, noticing a pattern? Adding shift creates a slight change in functionality! It works for loads of shortcuts, experiment with it!
HACK #8: SPACE CAN KEEP YOUR PLACE
Doing loads of reading on a webpage? Hate having to scroll and put the last line you just read at the top of the page to keep your place?
Well, the space bar can actually do this for you! Once done reading all the contents and needing to scroll down, give that space bar a hit. It will scroll just enough to where the prior bottom of the page is now the top.
Remember, space can help keep your place.
LOOK OUT FOR MORE HACKS
So, there you have it. 8 simple hacks that will boost your productivity, efficiency and just make life that little bit easier!
At IQ in IT, we can make technology work for any business! Whether you simply need advice on how to increase productivity or need support on a large-scale implementation with monitoring and security? We can do it all!
We make technology work for you the way you want it to! Book a consultation below!
Here's our live calendar!
Continue reading:
Explaining Cybersecurity Audits (And the Three Tips for Running One)
5 Biggest Questions About Windows 11 Answered
IT Support & Services Buyer's Guide 2022