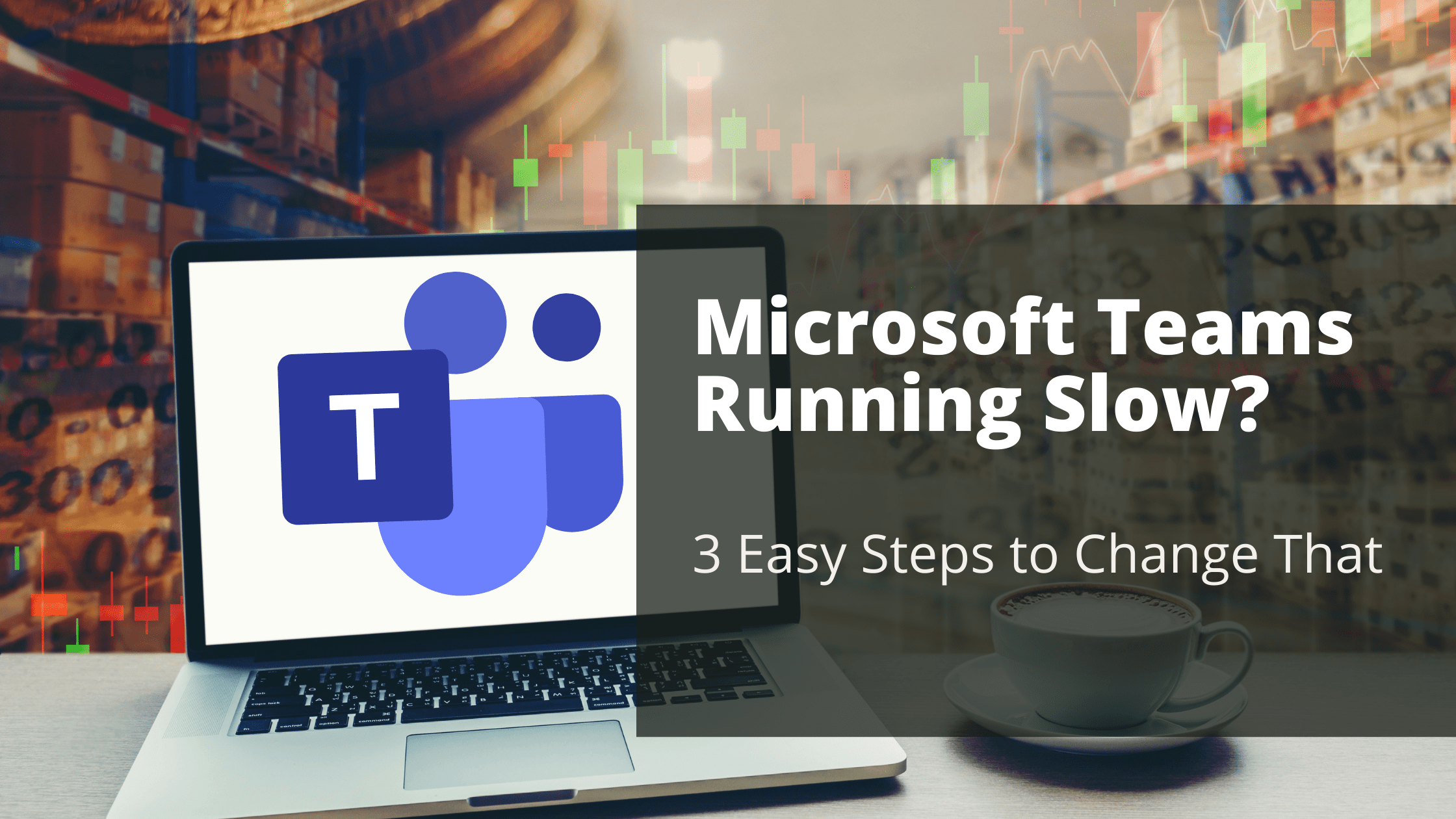 Stop Microsoft Teams from Running Slow in 3 Easy Steps
Sometimes, Microsoft Teams is just running very slow. When this happens, there are a number of factors to consider, including the quality of your internet speed and connection and whether or not someone else on the same network is doing something "bandwidth-intensive" (3 of the five kids are watching Netflix while the other two are gaming for example).
Regardless of these factors, Microsoft Teams is a memory and CPU hog. This can slow down the entire laptop or computer if there isn't enough memory for other programmes to operate. When you're trying to share your screen with others and there's a lot of "lag", you'll notice this and so will the other people on the call.
So, if you feel you're having that problem, here are three easy steps you can take to make Microsoft Teams work faster. You may not need to complete all of them, but we encourage that you do so in the sequence shown below.
STEP #1: CHANGE THE MICROSOFT TEAMS SETTINGS
Hit the three dots next to your profile picture or the picture itself depending on the version in Microsoft Teams. In the menu, find the Settings symbol and click it as the next step.
A pop up menu will open. Untick the 'Disable GPU hardware acceleration' and 'Register Teams as the chat app for Office' checkboxes. These changes only become effective after a restart, so close Microsoft Teams and open it up again.
STEP #2: CHANGE THE MICROSOFT OUTLOOK SETTINGS
Microsoft Outlook is probably open anyway, right? In the top left corner, click on 'File' and scroll down a little until you find 'Options'. Click on it.
A new window appears. Navigate to 'Add-ins', click on 'Microsoft Teams Meeting Add-in for Microsoft Office' and finish this step off by tapping the 'Go…' button at the bottom of the screen. Keep in mind that 'Microsoft Teams Meeting Add-in for Microsoft Office' can be located under 'Active Application Add-ins'.
Untick the 'Microsoft Teams Meeting Add-in for Microsoft Office' checkbox and confirm by clicking OK.
STEP #3: CLEAR THE CACHE IN WINDOWS EXPLORER
Open any folder and type '%appdata%\Microsoft\teams' (or just copy via CTRL + C from here and paste it via CTRL + V). Another way is to press the Windows key and R (WIN + R). Now hit Enter. 'C:\Users\USER\AppData\Roaming\Microsoft\Teams' is now open.
Delete all file in the following folders:
blob_storage

Cache

Code

Cache

databases

GPUCache

Local Storage

tmp
In the folder 'IndexedDB', the .db file should be deleted. 
Continue reading:
How Microsoft Teams uses memory – Microsoft Teams | Microsoft Docs
Seven Ways to Maximise Cloud Solutions for Your Small Business
Technology Investment Done Right
Microsoft Teams vs Zoom – Which Video Conferencing Service is Best for Your Business?